Machining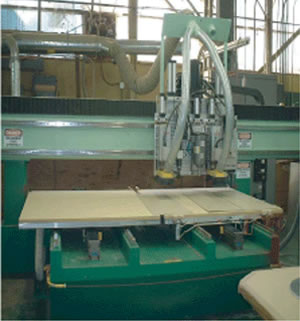 Close tolerance machining is second nature to us. Close tolerance machining of our panels is what makes our assembly so easy. If you machine a panel to nice tight demensions it fits the assembly panel just right.
The following machinery is
employed in our shop:
3 Northwood CNC routers, 5' x 10' split bed.
1 Ekstrom, Carlson & Co. 444 numerically controlled router. Tolerance +/- .004"
2 Tannewitz/Ramco 62" wide belt abrasive planer. 150HP.
1 Panel saw w/ numerically controlled backstop. 14' capacity.
1 Black Brothers roll coater, 60" wide, with panel cleaner.
5 Cold presses, custom seam welders.
2 Custom Seam Welders
1 Edwards "Jaws IV" Iron worker. Capacity, 55 tons (1/2"x12") 2 Tannerwitz
band saw, 36" throat
1 Automatic band saw for cutting balsa panels. Tolerance +/- .010"
1 Ekstrom, Carlson & Co. 434 pin router.
Testing Laboratory
Light Frame Welding
1 TIG welder for light frame welding.