Rail Car Interiors

Manufacturers of MACHINE ARC SEAM WELDED, WATER TIGHT stainless steel ply metal flooring.
Composite interior lining of decorative melamine aluminum and various core material for ceilings, walls and cab partitions.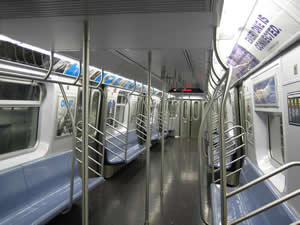 We support tens of thousands of people a day on our plymetal flooring used in passenger rail cars, but we don't stop there. KMA also supplies interior panel assemblies. We produce ceilings, side walls, wind screen cab door assemblies and flooring for locomotives. We offer kitting and "just in time" deliveries to help reduce your inventories and ease your assembly.
The rail industry has some of the most stringent requirements out there. After all, when a rail car is carrying people, they want to make sure it is safe for the consumer. Strict smoke and flame requirements, bonding requirements, and workmanship help make our panels safe.
Some things we produce:
Plymetal flooring
Balsa core panels

Ultra Light weight balsa 40%-50% lighter than Doug Fir Plywood

Side wall interior panels

Ceiling Panels, honeycomb core
Windscreen panels
Engineers cab door
Cab partition panels & doors
Also Serving in Transportation:
Bus
Recreational Vehicle markets.
Completed Project History:
| Location | Agency | Quantity of Cars | Year |
| --- | --- | --- | --- |
| California | Caltrans | 29 | 1996 |
| Boston | MBTA | 17 | 1997 |
| Dallas | DART | 34 | 1997 |
| New Jersey | NJTHB | 43 | 1997-1998 |
| Maryland | MARC III | 50 | 1997-1998 |
| New York | LIRR | 116 | 1997-1998 |
| Dallas | DART | 55 | 1998 |
| New Jersey | NJTHB | 45 | 1998-99 |
| Philadelphia | SEPTA (Rehab) | 54 | 1998-2000 |
| Northen Virginia | NVTC | 13 | 1999 |
| Portland | PCJPB | 20 | 1999 |
| Northern Indiana | NICTD | 10 | 1999-2000 |
| Denver | RTD | 14 | 1999 |
| Chicago | METRA (Rehab) | 54 | 1999-2001 |
| New York | NYCT-R142A | 400 | 2000-2001 |
| Santa Clara | SCVTA | 30 | 2000 |
| Philadelphia | SEPTA (Rehab) | 48 | 2000 |
| Denver | RTD option | 17 | 2000 |
| San Diego | Amtrak Surfliner | 62 | 2000-2002 |
| New York | NYCT-R142A option-1 | 120 | 2001-2002 |
| Hong Kong | KCSC | 250 | 2001-2002 |
| Santa Clara | SCVTA option | 70 | 2002-2003 |
| Boston | MBTA | 32 | 2001 |
| New York | NYCT-R143 | 208 | 2001-2002 |
| New Jersey | NJT-Comet V | 130 | 2001-2002 |
| Chicago | METRA | 300 | 2001-2004 |
| Washington | WMATA (Rehab) | 364 | 2002 ~ |
| Philadelphia | SEPTA (Rehab) | 33 | 2002-2003 |
| Santa Clara | SCVTA option | 70 | 2002-2003 |
| New Jersey | NJT-Comet V option | 135 | 2002-2004 |
| Los Angels | LACMTA | 7 | 2002 |
| Hong Kong | KCSC option | 72 | 2003 |
| New Jersey | NJTHB | 28 | 2003 |
| Portland | LRV option | 20 | 2003 |
| New York | NYCT-R142A option 2 | 80 | 2003-2004 |
| Boston | MBTA | 28 | 2003-2004 |
| Chicago | Highliner | 26 | 2004-2005 |
| New York | NYCTA-R160 | 660 | 2004 ~ |
| Taipei | TRTC | 321 | 2005 ~ |
| Seattle | Sound Transit | 31 | 2005-2006 |
| Virginia | VRE | 51 | 2006 ~ |
| Chicago | METRA (Rehab) | 26 | 2006 ~ |
| New York | PATH | 340 | 2007 ~ |
| Dallas | DART-C | 115 | 2007 ~ |